Apple Watch Series 3 GPS, Nike+ 38mm Space Gray - Preowned C
Kód:
24656
Súvisiaci tovar
Podrobný popis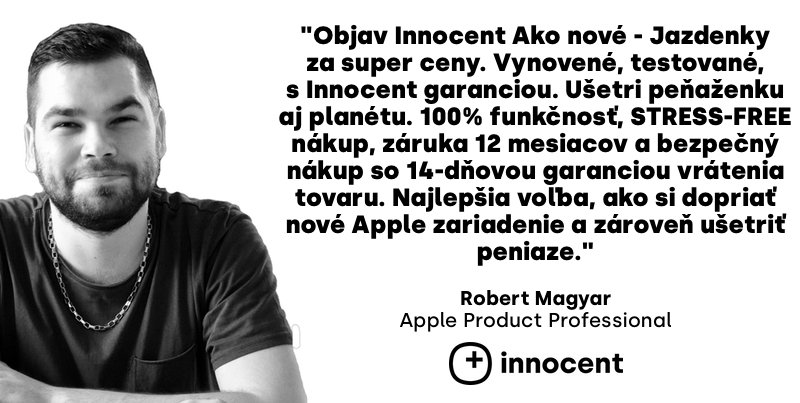 Smart hodinky Apple Watch Series 3 sú vďaka svojim integrovaným funkciám sa stanu vašim každodenným spoločníkom pre rozličné aktivity aj šport. Disponujú vstavaným GPS snímačom, ktorý vám umožní sledovať prejdené kroky či trasy. Moderné aplikácie vás budú motivovať na pohyb ku dosiahnutiu cieľa. Slúžia aj ako zdravotná pomôcka. Snímač srdcového tepu, aplikácie Dýchanie či notifikácie pre dodržiavanie pitného režimu alebo na spánok sa postarajú o vaše zdravie. Zaujme vás aj nastaviteľný ciferník. S vašimi Apple iPhone a inými zariadeniami ich spojíte pomocou Bluetooth a Wi-Fi.
Ešte výkonnejšie
Tretia generácia Apple Watch prináša okrem skvelého výkonu aj množstvo nových funkcií. Pre plynulú prácu hodiniek Apple Watch Series 3 slúži rýchly dvoj-jadrový procesor s čipom W2. Prepínanie medzi aplikáciami, ich spustenie a práca s nimi bude bezproblémová a pohodlná. K dispozícií má aj internú pamäť s kapacitou 8 GB, ktorá slúži pre uloženie aplikácií a jej údajov. Hodinky majú integrovaný GPS a GLONASS, barometrický výškomer, akcelometer a gyroskop. 
Spoločník na celý deň
Posielajte správy, volajte a prijímajte pozvánky na udalosti vďaka prepojeniu s vašim Apple iPhone. Nič dôležité vám už neunikne. Aplikácie a notifikácie sa o to postarajú. Výdrž batérie hodiniek Apple Watch Series 3 je do 18 hodín pri bežnom používaní. Užívateľské prostredie poskytuje operačný systém watchOS 4, ktorý je mimoriadne jednoduchý na ovládanie a prispôsobenie nastavení podľa vás.
Jedinečný dizajn
Smart hodinky Apple Watch Series 3 vás budú sprevádzať počas celého dňa a vytvoria dizajnový doplnokpre ranné športové aktivity či schôdzku v poobedňajších hodinách. Vo vesmírne šedej farbe pôsobia elegantne a nadčasovo. Hliníkový okraj skvele doplní celkový dizajn hodiniek. 38 mm prevedenie skvele padne na menšie ruky. Poskytujú nastavenie veľkosti okolo zápästia od 130 mm do 200 mm. Ciferník hodiniek poskytuje množstvo možností jeho úprav – je to len na vás. Displej je posilnený o Ion-X sklo, ktoré sa postará o ochranu pred škrabancami. 
Ultimátne hodinky na šport
Smart hodinky Apple Watch Series 3 vás donútia k pohybu. Snažte sa každý deň uzavrieť všetky tri krúžky aktivít, ktoré predstavujú grafický cieľ vašej dennej pohybovej aktivity. Budú vás motivovať a posúvať ďalej, keď je treba. Všetky vaše aktivity môžete zdieľať s priateľmi, ktorí môžu tvoriť ďalšiu motiváciu pre vás. Spolu s hodinkami môžete osláviť aj vaše pokroky, úspechy a dosiahnuté ciele.
Ideálne do všetkých podmienok
V smart hodinkách Apple Watch Series 3 sa nachádza integrovaný GPS snímač a výškomer, ktorý zaznamená vaše prejdené trasy aj s výškovým rozdielom. Vďaka aplikácii Hudba, môžete pridať váš playlist a prehrať si tak obľúbené skladby. Svojim prevedením sú vhodné aj na plávanie v bazéne alebo mori do hĺbky 50 metrov. Aplikácia Cvičenie odmeria vašu prechádzku, extrémnu jazdu a aj všetko medzi tým. 
Ľahké pripojenie
Využite smart hodinky Apple Watch Series 3 naplno a spárujte ich s vašim Apple iPhone pomocou bezdrôtovej technológie Bluetooth. Aplikácia Zdravie na iPhone zaznamená všetky údaje o vašom zdraví a tréningu v jednej aplikácii. Môžete sledovať štatistky a vaše pokroky pre dosiahnutie cieľa. Pripojenie k internetovej sieti zaistí Wi-Fi. Takto môžete jednoducho prijímať notifikácie z aplikácií po pripojení na internet. Hodinky sú nabíjanie pomocou magnetického káblu, ktorý sa nachádza v balení. 
Zdravie na prvom mieste
Vďaka integrovanému snímaču srdcového tepu môžete sledovať svoje srdce pri odpočinku, chôdzi aj po tréningu. Aplikácia Dýchanie vám pomôže pri upokojení tela aj mysle po športovom výkone. Ďalšie zdravotné aplikácieiných vývojárov vás upozornia na dodržiavanie pitného režimu alebo ako skvalitniť váš spánok. A budete zdravší.
 * Tento tovar podlieha osobitnému režimu zdaňovania podľa § 66 zákona č. 222/2004 o DPH.  

Dodatočné parametre
Kategória

:

Apple Watch
Model

:

Apple Watch Series 3 38mm
EAN

:

GRADE C
Buďte prvý, kto napíše príspevok k tejto položke.
Buďte prvý, kto napíše príspevok k tejto položke.
Len registrovaní užívatelia môžu pridávať články. Prosím prihláste sa alebo sa registrujte.