Apple Watch Series 7 GPS, 45mm Graphite Stainless Steel Obal with Black Sport Remienok - Regular
Kód:
20772
Súvisiaci tovar
Podrobný popis
Apple Watch Series 7 prichádzajú vo veľkosti 41 a 45mm a majú tak až o 20% väčší displej oproti predchádzajúcej generácii. Nové displeje sú tak veľkolepé, že z nich neodtrhneš zrak. Aby nie, keď disponujú stále zapnutým Always-On Retina displejom. Navyše odteraz svietia až o 70% jasnejšie keď si vo vnútri a máš ruku dole. Jednoliaty dizajn. Hladko až na hranu. Lomom svetla pri okrajoch vzniká jemný efekt zaoblenia, takže displej a puzdro pôsobia jednoliatym dojmom. Je to na betón. Series 7 sú najodolnejšie Apple Watch. Series 7 používa vysoko odolné sklo proti prasknutiu. Predné sklo a telo je konštruované tak, že je odolné proti prachu s certifikáciou IP6X a vodeodolné až do 50metrov hĺbky. Zmerajú hladinu kyslíka v krvi revolučným snímačom a aplikáciou Zmerajú okamžite EKG a tepovú frekvenciu. Series 7 sú strážcom tvojho fyzického a psychického zdravia. Cyklistika prehodila na vyšší stupeň. Apple Watch teraz automaticky spoznajú, keď začneš šliapať, a pripomenú ti, aby si spustil cvičenie. Detekcia pádu je novo optimalizovaná pre cyklistiku a ďalšie cvičenia a pri nehode ti môžu zavolať záchranku. Míľniky jazdy vrátane dosiahnutej rýchlosti, vzdialenosti a ďalších oznamuje hlasová odozva, takže nemusíš ani na okamih spúšťať oči z cesty.Vylepšený algoritmus presnejšie počíta kalórie pri jazde na elektrobicykli. Nabíjací systém u Series 7 je prepracovaný tak, že sa až o 33% nabíjajú rýchlejšie. Na 80% ich dobiješ už za 45 minút alebo 8 minút nabíjania ti vystačí na 8 hodín merania spánku.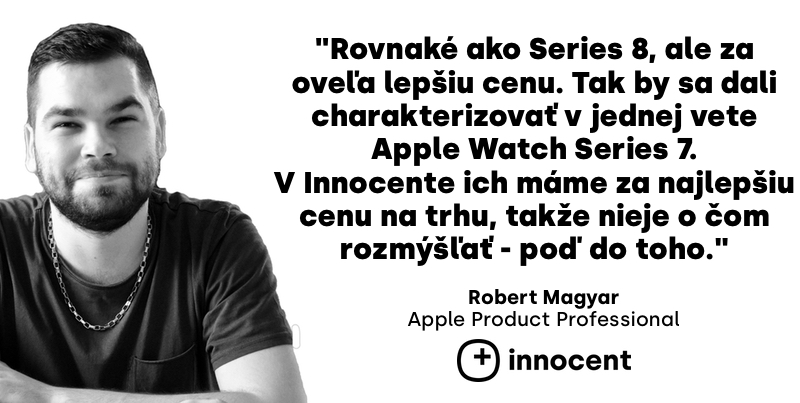 Špecifikácia produktu
Technické parametre
Apple Watch Series 7 vyžadujú iPhone 6s alebo novší s iOS 15 alebo novším
45mm puzdro; o viac než 50 percent väčšia plocha obrazovky
stále zapnutý LTPO OLED Retina displej
jas 1000 nitov
displej s Ion-X sklíčkom
čip S7 SiP s 64-bitovým dvojjadrovým procesorom
bezdrôtový čip W3
ultraširokopásmový čip U1
korunka Digital Crown s haptickou odozvou
snímač kyslíka v krvi
elektrický snímač srdcovej činnosti a optický snímač srdcovej činnosti tretej generácie
oznámenie o pomalom a rýchlom tepe
oznámenie o nepravidelnom srdcovom rytme
aplikácia EKG
medzinárodné tiesňové volánie tiesňové SOS volanie
detekcia pádu
vodeodolnosť pre plávanie (vodeodolnosť do 50 metrov)
odolnosť proti prachu (IP6X)
predné sklíčko s najväčšou odolnosťou proti prasknutiu
Wi-Fi Bluetooth 5.0 GPS / GNSS Kompas
stále aktívny výškomer
kapacita 32 GB
rýchlejšie nabíjenie
Obsah balenia
Apple Watch Series 7, remienok
k Apple Watch nie je pribalený napájací adaptér, použi prosím napájací adaptér, čo už máš, alebo si pri nákupe pridaj nový
* Tento tovar podlieha osobitnému režimu zdaňovania podľa § 66 zákona č. 222/2004 o DPH.

Dodatočné parametre
Kategória

:

Apple Watch
Model

:

Apple Watch Series 7 45mm
EAN

:

0194252571392
SKU

:

MKL33HC/A
Buďte prvý, kto napíše príspevok k tejto položke.
Buďte prvý, kto napíše príspevok k tejto položke.
Len registrovaní užívatelia môžu pridávať články. Prosím prihláste sa alebo registrujte.