Naučte sa používať nový filmový režim na iPhone 13
Spôsob točenia videí, ktorý tu nikdy predtým nebol, vďaka filmovému režimu. Aby vôbec mohol fungovať, bolo potrebné vytvoriť procesor, ktorý by to hravo zvládol. A tak vznikol v nových iPhonoch čip s označením A15 Bionic.
K nemu bolo pridané aj inteligentné učenie, ktoré umožňuje systému učiť sa a lepšie chápať veci. Tak sa poďme pozrieť, čo to vôbec ten filmový režim je. Taktiež vás naučíme, ako ho správne používať. Máte aj vy nový iPhone 13? Potom si k nemu zakúpte šikovný obal alebo sklo na obrzaovku.
zdroj: gearcoupon.com
#odber#
Čo je filmový režim zač?
Ide o režim, ktorý sa nachádza v aplikácií fotoaparátu. Po jeho spustení dokážete presúvať zaostrenie z jedného objektu na druhý. To priamo počas točení videa. Systém na to používa technológiu Dolby Vision HDR. Spolu s technikou ​​nazývanou "stojanové zaostrovanie". Vďaka tomu tak môžete dosiahnuť ostré zábery na vami vybraný objekt. Miesto, ktoré chcete zaostriť, systém zaostrí tak, že všetko okolo neho v pozadí rozmaže.
Zároveň si tento objekt viete uzamknúť, aby ho systém sledoval, ako sa hýbe. Môžete ho tak mať zaostrený stále. Keď do popredia vstúpi iný objekt, systém ho rozpozná a zaostrí na neho. Uchvátení touto funkciou? Prečítajte si, čo nový iPhone ešte dokáže.
Ak je to osoba, inteligentné učenie dokáže určiť, kedy sa osoba pozerá do objektívu a kedy nie. Podľa toho potom upravuje ostrosť. Samozrejme sa stále nájdu nejaké chybičky, no Apple vám ponúka tento režim nastaviť podľa seba. V postprodukcii si viete ostrenie zvoliť podľa seba.
#randomPost#
Tak ako na ten filmový režim?
Bez obáv, nejedná sa o nič náročné. Vlastne zvládne to snáď každý, kto vie, ako spustiť video. Tak poďme na to:
Spustite aplikáciu fotoaparátu a swajpujte, pokiaľ nájdete režim "filmový"

Vyberte si, čo chcete natáčať, klepnite na neho a spustite nahrávanie videa

Ak vám niekto vojde do záberu, systém zaostri aj na neho automaticky. Nezáleží, či stojí pred vašim mobilom alebo je niekde v diaľke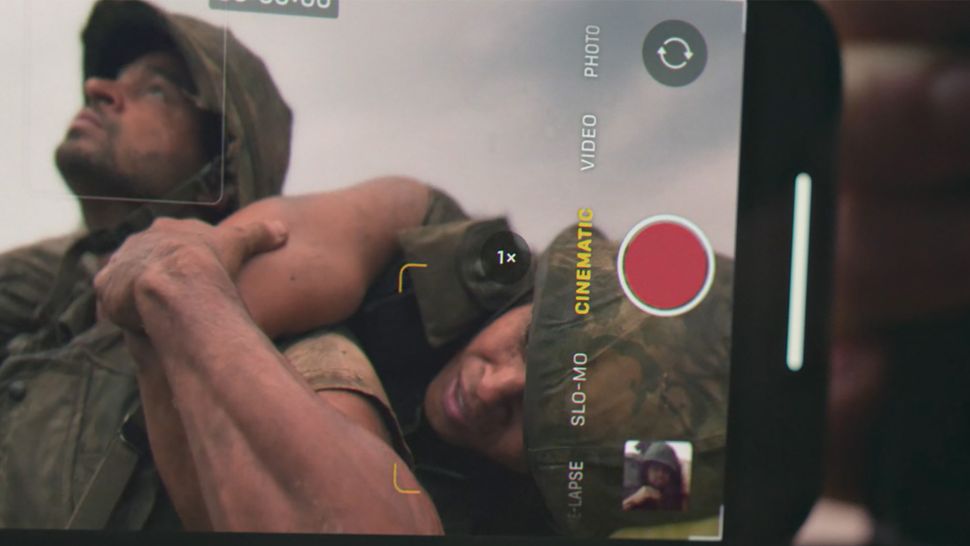 zdroj:techradar.com
Postprodukcia - upravovanie záberov
Spustite aplikáciu Fotky na svojom iPhone a vyberte video nasnímané vo filmovom režime

Klepnite na položku "Upraviť" v pravom hornom rohu obrazovky

Posuňte prst po cievke klipu v spodnej časti obrazovky a nájdite časť klipu, ktorú chcete upraviť

Klepnutím na inú oblasť snímky prepnete zaostrenie na nový predmet

Bodkovaná žltá čiara pod cievkou klipu označuje dobu, počas ktorej je v klipe sledovaný aktuálne vybraný subjekt. Ak klepnete na zakrúžkovanú bodku v riadku, zobrazí sa ikona koša. Ťuknutím na neho odstránite sledovanie daného objektu

Ak ste s úpravami skončili, klepnite na "hotovo"
#banner#
Od toho aby váš iPhone žiaril, vás delí len pár kliknutí. Doprajte mu nový outfit.